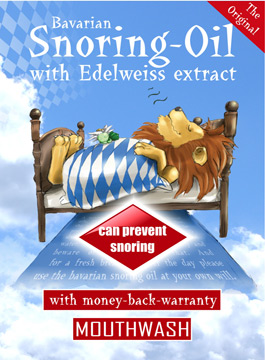 Bavarian Lion-Oil, the oral hygiene product with the power of the Bavarian Alps, is a mixture of more than ten different ethereal oils.
It frees respiratory tracts, that cause snoring at night. For preventing the disturbing noise please use Lion-Oil as follows: Please give 5-10 drops of the Lion-Oil into a glass of water, rinse out your mouth forcefully and beware of drinking after that. Bavarian Lion-Oil does not only prevent snoring, it frees the respiratory tracts and gives a fresh breath for the rest of the day.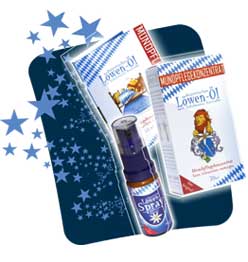 For those of you who are a bit sceptic, there is a money-back-warranty printed on every Original Bavarian Lion-Oil bottle. Enjoy the usage of Lion-Oil without any risk. Breathe free and deeply with Bavarian Lion-Oil.

Money-back-warranty
If you don't like the product, please send it, with the bill included, back to the manufacturer and get the whole price back.